The Adventures of Picasso
play
| | |
| --- | --- |
| Writer | Hans Alfredson |
| Writer | Tage Danielsson |
| Director-Choreographer | Ádám Horgas |
| Director | László Méhes |
Permission granted by AB Svenska Ljud and Proscenium Author Rights Agency
The legendary cult movie has been adapted to stage by László Méhes, director. The absurd play promises a most entertaining evening for everybody. There are no language barriers regarding this hilariously funny performance!
The narrator speaks in Hungarian, everybody else speaks a special mixture of languages, so the whole performance may be enjoyable for non-Hungarian speakers.
Check out our photo gallery!
The cult movie was created in 1978 by the Swedish directors Tage Danielsson and Hans Alfredson (Don José, father of Picasso played by the latter in the film). Evoking the style and humour of silent movies the story is about Pablo Picasso's life and career, however it obviously does not claim realism.
The absurd ideas, the unlimited imagination and the surreal images are great sources of humour that wonderfully match the peculiar stories and characters of Picasso's life in Paris at the turn of the century, an era that was exceptionally dense and productive artistically.
It all begins with the birth of Picasso in Malaga, Spain. His father, Don José is an artist who recognizes his son's talent quite at an early age: when Picasso makes his father's sculpture of food. When Pablo is old enough, he is taken to Madrid to learn how to paint. His talent is quickly acknowledged and rewarded. Then he goes to Paris but his career just wouldn't start. One day his father brings the sad news of his mother's death. While Don José is eating an apple, Pablo paints the different states of the fruit as it lessens. The result is the birth of Cubism. These new style paintings are extremely difficult to sell. However the father manages to smuggle one into an exhibition where a visitor falls in love with it so much that she buys it despite public outrage. The woman is Gertud Stein, the famous writer. Picasso immediately gets into the centre of the artistic life in Paris. Braque, Matisse, Hemingway, Erik Satie, Apollinaire, Henri Rousseau, Vincent van Gogh and Toulouse-Lautrec are among his friends. After a great many adventures Picasso falls into his own trap: his art becomes industrial, his house is turned into a museum while he is still alive.
As we now all know the famous song of Sirkka, the Finnish diva is actually a fish pastry recipe. Translation: "first take water, salt, then butter and flour and knead, knead, then knead. Then take fish and bacon and put it on the dough, darling. Put it in the oven to bake, and forget it for a while."
Premiére date 28/09/2012 Fri
| | |
| --- | --- |
| Pablo Picasso | Károly Hajduk |
| Ingrid Guggenheim | Dóra Uhrik |
| Don Jose | Ferenc Köles |
| Sirkka and Dona Maria and Old Dolores | Katalin Stubendek |
| Young Dolores | Barbara Vlasits |
| Alice B. Toklas and Hitler and Apollinaire and model | Lajos Széll Horváth |
| Bailiff and Rousseau and Churchill and priest | Richárd Józsa |
| Gertrude Stein and mechanic | András Ernő Tóth |
| | Daniella Kollár |
| | Írisz Nagy |
| | Máté Harka |
| | Soma Lőrinc Kerekes |
| | Dávid Matola |
| | Dániel Czéh |
| | Katalin Ujvári |
| | Viktória Kocsis |
| | Roland Mangold |
| | Zsolt Cseporán |
| | Kristóf Petrinovics |
| | Márk József Szabó |
| | Attila Rajnai |
| | |
| --- | --- |
| Stage designer | István Rózsa |
| Costume designer | Kata Horváth |
| Sound designer | Tamás Ditzmann |
| Assistant, prompter | Hédi Kiss |
| Assistant, prompter | Dániel Czéh |
| Stage inspector | Attila Rajnai |
Former performances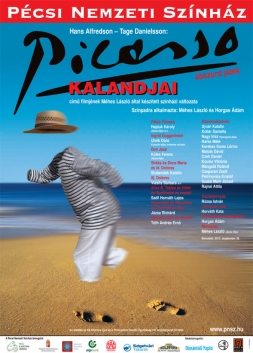 Open
Related content
Season ticket search
Be the first to read our news! Subscribe to our newsletter!
Gallery